AMYAH MAE WAS BORN SLEEPING
on June 06, 2005
passed away on June 06, 2005 .
We will remember her forever.
Amyah was born to her mother Alyssa
<
1:52 pm on Monday June 6th 2005.


Her family will truly miss her.
I will remember you b your beautiful
little face and your beautiful
thick dark black hair with such and angel look to you.
I will always remember you by your beautiful
little face and what time we could of had together.


ON JUNE 2005..DUE TO A CORD FAILURE
A FULL TERM BABY GIRL CHOOSEN
BY GOD TO BE AN ANGEL
THAT BRIGHT SUNSHINING MORNING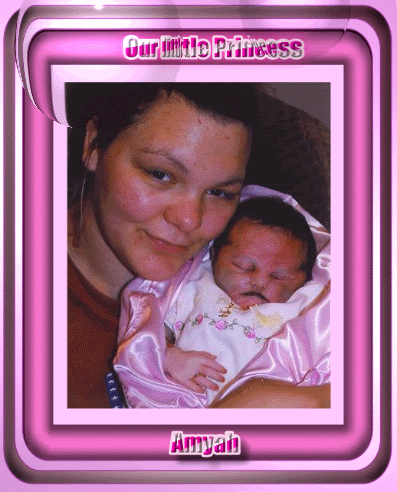 We're gathered here today
To remember our children who have died.
We look at these bricks
Laid carefully side by side.
For us, this is not just a walkway
Each brick represents our loss
Our pain, our devastation
The unbelievable cost
But each brick represents
our love, our joy
our feelings of great pride
For each girl and boy
Our children still live on in our hearts
We will love them forever
The memories will never part
So to those who see the bricks and may ask why
We're saying please tread softly
On this gentle reminder of days gone by

when you wonder the meaning of life and love
Know that I am with you.
Close your eyes and feel
me kissing youIn the gentle breeze
across your cheek.
When you begin to doubt
that you shall ever see me again,
Quiet your mind and hear me.
I am in the whisper of the heavens
Speaking of your love.
When you lose your idenity,
When you question who you are,
and where you are going,
Open your heart and see me.
I am the twinkle in the stars
smiling down upon you,
Lighting the path for your journey.
When you awaken each morning
not remembering your dreams,
But feeling content and serene
Know that I am with you
Filling your nights with thoughts of me.
When you linger in the remnant pain,
Wholeness seeming so unfamiliar,
Think of me.
Know that I am with you
Touching you through shared tears
of a gentle friend
Easing the pain
As the sunrise illuminates the desert sky
In that breathtaking brilliance,
awaken your spirit.
Think of our time together,
all too brief, but ever brilliant.
When you are certain of us together,
When you are certain of your destiny,
Know that God created that moment
in time, just for us.
I am with you always.

A SPECIAL THANK YOU TO SELMA FLYNN FOR HELPING WITH THIS SITE...